Shungite Stones for Water Purification in Wells
Price:
| Grade | Size (cm) | Surface | Price |
| --- | --- | --- | --- |
| | | | |
Type:

Others

Color:

Black

Material:

Shungite

Material Origin:

Russian Federation

SupplyAbility:

1000

Port:

Russina Federation

Min. Order:

1 (

Bags

)

Shipment Terms:

Others

Payment Terms:

PayPal
Irina Radina
Telephone:
+8911-4321647
Add to Basket
Product Description:
Shungite for wells - natural water filter.
1 package - 20 kg.
Fraction: 1-2 cm.

Nowadays many people leave their flats in big cities and move to the country. They want to be closer to the nature, eat pure food and drink pure water. So, well water is better for drinking, then tap water. Pour the shungite for wells into your well to make the water crystal pure, fresh and useful for your health. Shungite purifies water from radionuclides, metals, organic and non-organic pollutions. The water in such well is very fresh and pure, it has a good fresh taste without any smells. If you don't use the well for a long time, the water doesn't spoil. Shungite for wells provides you pure, fresh and tasty water, which gives you health and youth.
Shungite is a rare non-crystalline black mineraloid consists from 30 to 99 percent of carbon.
The main deposit of this unique stone is in the northwest of Russia, in the Lake Onego, in Karelia - ancient area of Baltic-Finnish nation Karelians. It was first described from a deposit near Shunga village, from where it gets its name.
Shungite has been used not only as decorative stone but also in medical treatment since the early 18th century. The anti-bacterial properties of shungite have been confirmed by modern testing.
Shungite tile for wall decoration is modern and eco-friendly. Shungite is a strong adsorbent, it purifies the air, neutralizes the dangerous radiation, so, this tile will help you to make your housing really healthy. The shungite tile is used for decoration medical offices in which procedures connected with radiation are carried out, because shungite helps to minimize the radiation influence. In the house the shungite tile will work as a protective screen from electromagnetic waves. Besides, the noble black color with elegant streaks looks very stylish and modern, it is suitable for any interior, combined with the other pure materials for decoration - stone, wood etc.
Contact Details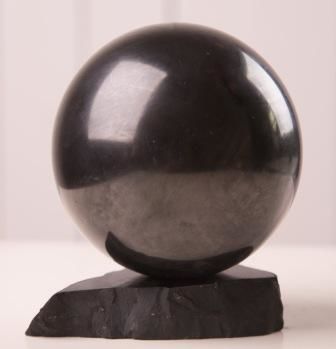 Irina Radina
Telephone:

+8911-4321647

Company Address

Rigachina street 37A Petrozavodsk Republic of Karelia
Send a message to this supplier