Ball Sphere Triangle Stand Pedestal Shungite Stone
Price:
| Grade | Size (cm) | Surface | Price |
| --- | --- | --- | --- |
| | | | |
| | | | |
| | | | |
| | | | |
Type:

Others

Color:

Black

Material:

Shungite

Material Origin:

Russian Federation

SupplyAbility:

100

Port:

Russian Federation, Petrozavodsk

Min. Order:

1 (

Pieces

)

Shipment Terms:

Others

Payment Terms:

PayPal
Irina Radina
Telephone:
+8911-4321647
Add to Basket
Product Description:
Ball/Sphere Triangle Stand

Surface: polished.
Aviable sizes: #1 - for ball`s diameter 3-8 cm.
#2 - for ball`s diameter 9-15 cm.
#3 - for ball`s diameter 15-25 cm.
#4 - for ball`s diameter 30 cm.
The shunghit balls can be used not only for massage and stress relief. Also they can decorate your home or office. For placing your shunghit balls in any convenient place, there is the stand under the balls. It doesn't let the balls roll and fall, and it's very stylish and beautiful. The stand is triangular, such form symbolizes harmony and reliability. Things made of shunghit protect you and your home from negative influence and harmful radiation, also they spread positive energy. Shunghit balls and the suitable stand will be a great gift for relatives, friends, a colleague or a boss. Such things look noble and expensive and help to improve health and rise vitality.
Shungite Jewellery and Home Accessories strengthen by regular using your biofield, protect you from EMF, help to find emotional harmony.
Shungite is a rare non-crystalline black mineraloid, consists from 30 to 99 percent of carbon. The main deposit of this unique stone is in the northwest of Russia, in the Lake Onego, in Karelia - ancient area of Baltic-Finnic nation Karelians. It was first described from a deposit near Shunga village, from where it gets its name.
Shungite has been used not only as decorative stone but also in medical treatment since the early 18th century. The anti-bacterial properties of shungite have been confirmed by modern testing.
Ideal adsorbing properties of shungite allow it to be an excellent water filter.
Such water can and should be used for baby food, to improve and maintain immunity.
In large cities in the water the content of harmful substances of organic and inorganic origin is increased.
Shungite neutralizes all impurities and structures water at the molecular level. Special molecules - fullerenes, which are part of the shungite, contribute to the preservation of health and youth. Such water is considered to be alive.
Contact Details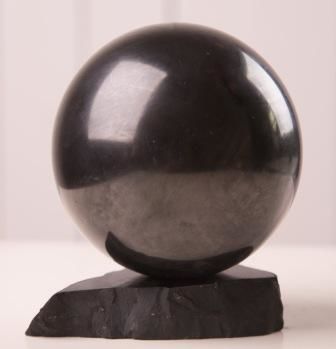 Irina Radina
Telephone:

+8911-4321647

Company Address

Rigachina street 37A Petrozavodsk Republic of Karelia
Send a message to this supplier